"The first thing you notice when you come to Nauvoo is: there's no food here," said Jenny Nilson.
Luckily for Nauvoo locals and tourists alike, Nilson and her team Steven and Erin Jespersen have a tasty solution.
"We're going after flavor. One taste bud at a time," said Nilson.
After COVID left Nauvoo barren, Nilson decided the town needed some new flavor to spice things up. So, she joined forces with Erin and Steven Jespersen, and they started with a red food trailer and called it "Toothsome." Their food was a hit!
Their food is sensational, if I do say so myself. Their take on old favorites is delectable. I tried one of their meals last fall … and let's just say I haven't forgotten that burger!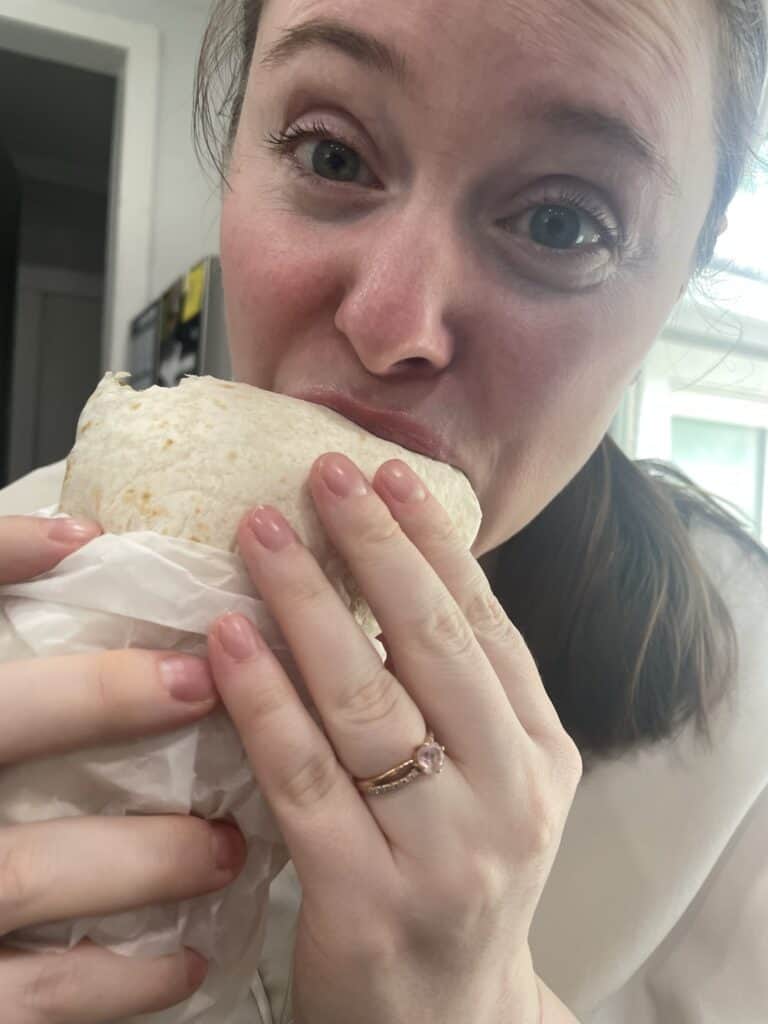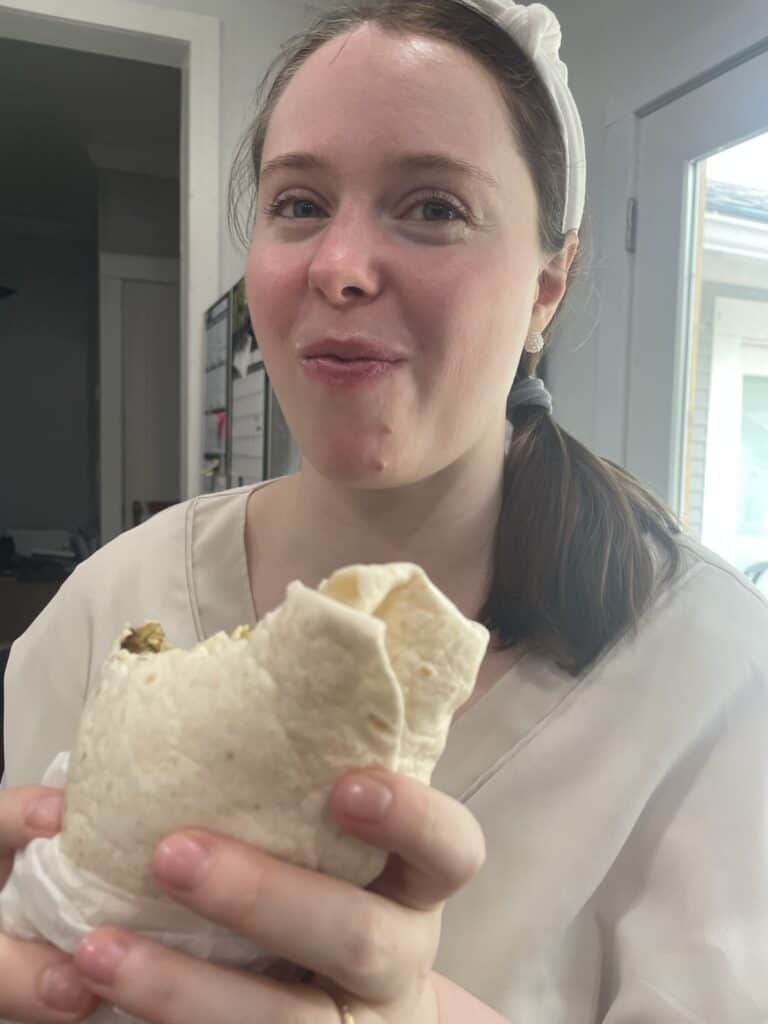 Spicing Things Up
Recently I got together with Nilson and Erin Jespersen to chat about their restaurant and try some of their other menu options. Nilson was born in Italy and raised in London. The Jespersens are from Massachusetts and Connecticut.
Nilson cooked me up a fresh falafel wrap. It was so yummy and flavorful, and yes, "new." I absolutely loved it.
If you haven't heard of or tried falafel, it is made from ground chickpeas. Nilson whips up her own, made-from-scratch falafel and fries it up to golden-brown perfection. She then pairs it with cabbage, onion, tomatoes, and some homemade Greek-mayo and homemade roasted red pepper sauce. Can you say utterly delish?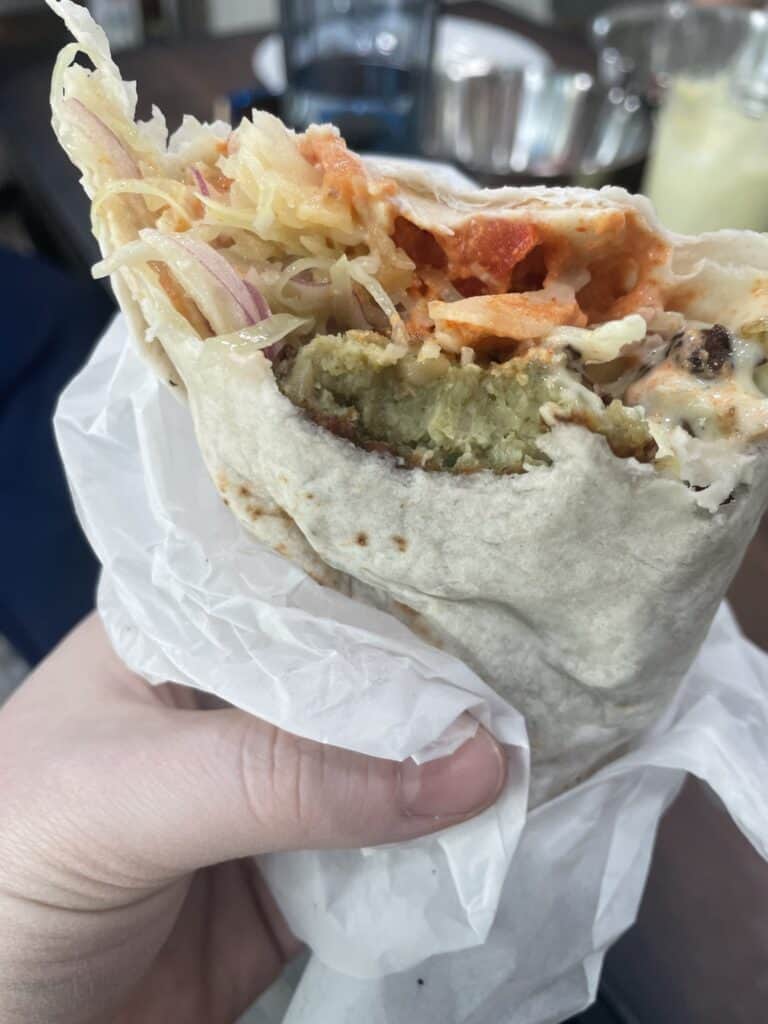 Introducing Restaurant Lock 19
After the success of their food and the encouraging feedback they received, they purchased the old Nauvoo gas station on Mulholland St and decided it would be a restaurant called "Lock 19" (named after the nearby Keokuk-Hamilton Lock & Dam).
They intended to open in the Spring of 2023, but because of plumbing and construction problems, their project was delayed.
Fortunately, they just sold their red food trailer, and with those funds, and maybe a little help from some kind and generous donors (hint, hint) they can finally get things up and running, so that Nauvoo has something new to chew on this summer.
Despite many challenges and road bumps along the way, Nilson and the Jespersens have pushed their way through and are confident the restaurant is going to work.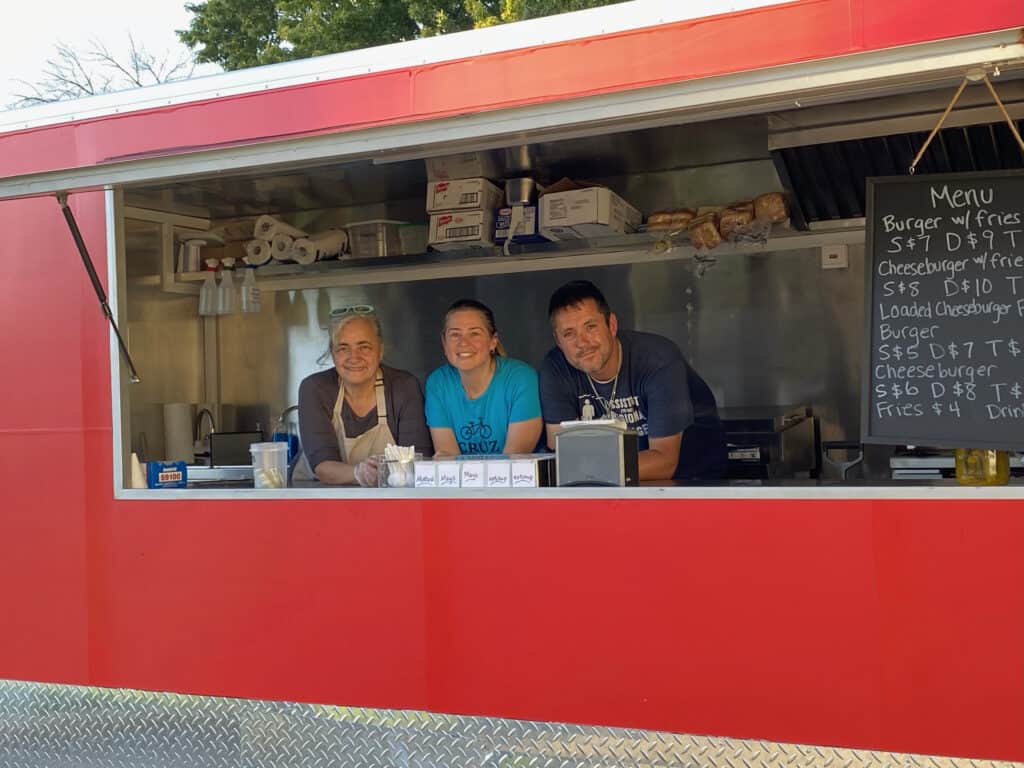 Teamwork = Dreamwork
Nilson's husband has severe Parkinson's Disease. She said she never wanted to open a restaurant.
"I've never wanted to do anything like this, ever," Nilson said. She says the Lord has guided her through this process. She knows this is what she is supposed to do.
Working with the Jespersens has been a "match made in heaven," Nilson said. Erin is the tech-guru, Nilson is the chef, and Steven is their contractor extraordinaire (he can cook, too!).
"We are poor. We're poor!" Nilson repeats with dramatic, comedic intonation. That means that they don't shop the big box markets, which is lucky for us because they source their ingredients locally for a better product at a better price.
Nilson said that once they "get this place going," the restaurant will then have to, "limp its way through Christmas. That is what's going to kill you," she warns. In Nauvoo it is a well-known fact that businesses struggle to survive the winter.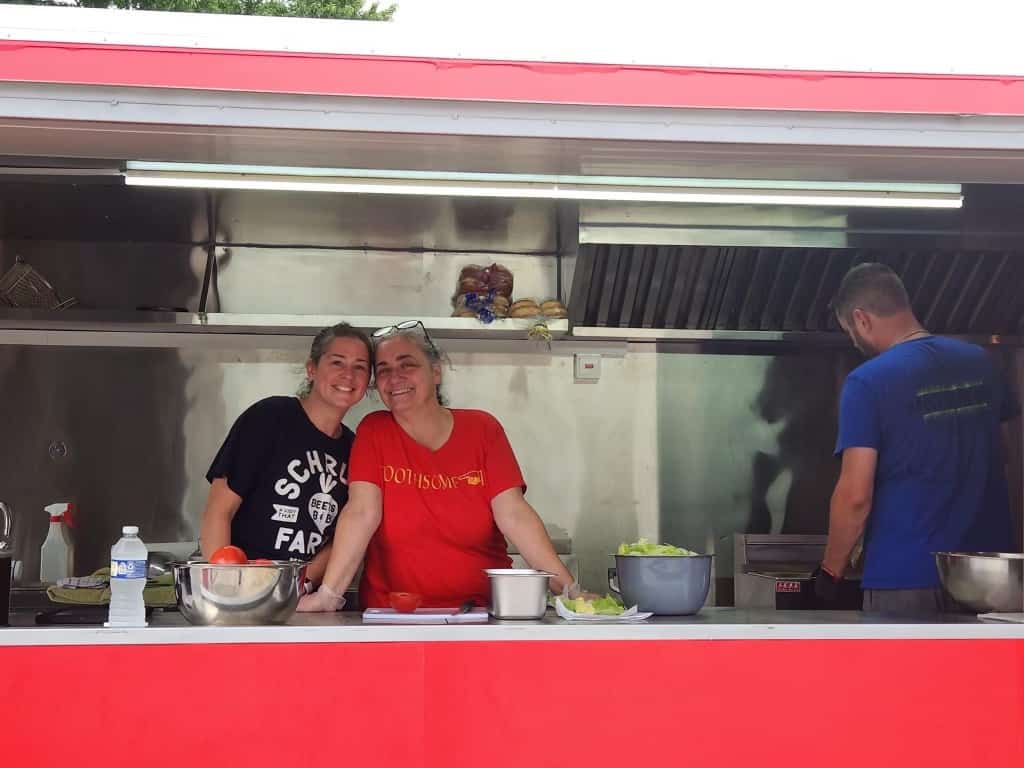 Sizzlin' in the Summer
For now, they are excited to get to work at the restaurant this summer. Their plan is to start cooking outside the Lock 19 building under a tent while the indoor renovations continue. They are looking forward to trying out different things on their menu and "providing a few yummy bits" for the town of Nauvoo.
"Nauvoo needs food," said Erin Jespersen. She said they plan to "put a smile on your face with the first bite."
Erin said they will have a small menu, but they hope to eventually make their restaurant into a traveler's "food destination."
Some potential menu items include their take on the usual hot dog, burgers, and fries, but they will also incorporate some less-typical items like the falafel wrap/burger, German krautballs, Korean chicken and Korean corn dogs, and maybe even some pork tenderloin. Stay tuned for more.
"Come and support it," Nilson said. "If its worth supporting, then support it."
Thanks for the tasty samples from your menu Lock 19! I can't wait to try more!
Sincerely yours,
Justina #NauvooBlogger
Donate to their GoFundMe
To view a live stream of Keokuk's Lock & Dam click here.