I live in Nauvoo.
Yep, it's called Nauvoo – and no, it's not Naboo.
Once my Uber driver told me I was the first and only person to ever tell him about the small town of Nauvoo. He said he'd met people from EVERYWHERE, but never Nauvoo. And for good reason, the population here is only around 1,000.
Whether you've heard of Nauvoo or not, it's a special place to be.
Once upon the 1800s, A LOT of people lived in Nauvoo. They came from all around the world. They said they were inspired by God to come here.
The funny thing is that even now people continue to move to Nauvoo for that same reason. Myself included.
That is why in this little town you can find some really cool, fun, and unique events. Check out my favorite picks from last year below.
Nauvoo Exodus
This event is probably like none other you've ever experienced, mostly because it's FREEZING cold! That description may scare away the faint-of-heart, but my family attended last year and we had an unforgettable experience. Some of the highlights were:
walking in honor of pioneer ancestors
enjoying yummy treats
taking a horse-drawn wagon ride
gathering with the community
watching and participating in the commemoration of the exodus!
You can learn more about the history behind the event by reading my review from last year here. This year the Annual Nauvoo Exodus Commemoration will be held on February 4, 2023. You can find more details about the event here.
Martyrdom Service of Remembrance
This was the coolest event! This Service of Remembrance for the Martyrdom of Joseph & Hyrum Smith brought together different churches from the community. It included music, scripture, and prayer all crafted into a dramatic retelling of that fateful June-day when a prophet and a patriarch were murdered (June 27, 1844).
The remembrance took place at Smith Family Cemetery in Historic Nauvoo at the graveside of Joseph, Emma, and Hyrum Smith. This event is well-worth a visit! You can read my review and see photos of the event here.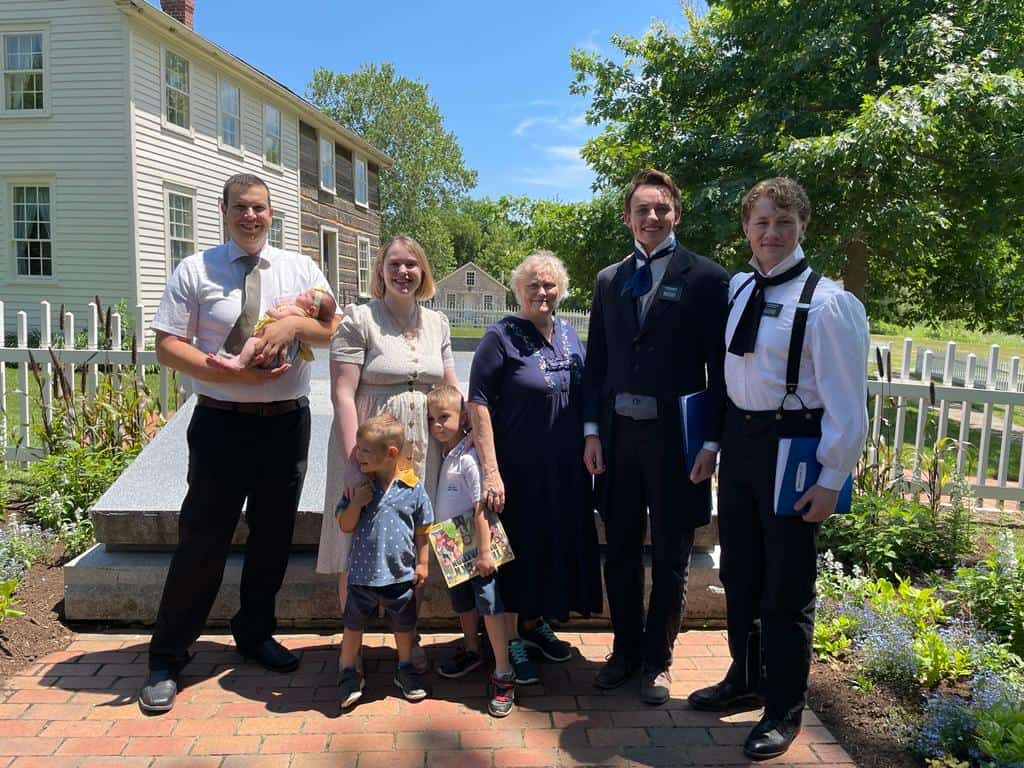 Nauvoo & British Pageants
This July was my family's first time at the pageant. Where to begin? The shows are amazing. The massive cast did an incredible job. The sets are impressive. The story and music are heartwarming. Before the show begins families can enjoy countless interactive pioneer games. Snacks and treats are also available. On top of all that you can enjoy a beautiful view of the temple. What could be better?
The only down side is BUGS. And there are a lot of them. Bring your bug spray and definitely wear long pants and long socks.
See my full review of the pageant, "A Forgotten City Comes to Life," and see pictures here and on my TikTok.
Riverside Service for Miracle of the Quails
If I had to choose, this event would be my favorite from last year because it meant so much to me personally. Also, this is a highly overlooked and often forgotten moment of history!
Have you heard of the Miracle of the Quails? It happened in 1846 on the banks of the Mississippi directly across from Nauvoo in an Iowa city called Montrose. After most of the early Latter-day Saints left Nauvoo in a mass exodus, only the poorest, sickest, and frailest Saints were left behind. These Saints were ultimately forced to flee Nauvoo with little hope or means of survival.
God intervened when he sent a cloud of peaceful quail to their cold encampment on October 9, 1846. All of the Saints were able to eat that day. Their stomachs were full and their faith was strengthened.
This past year a small group of my family and friends gathered on this forgotten historic site to commemorate this miracle.
Read more about our experience here.
That was it! Those were my favorite Nauvoo events last year. I hope one of these fascinating events has piqued your interest. I hope to see you here soon! Please reach out at [email protected] if you have any questions.
All the best,
Justina