My husband and I recently celebrated our wedding anniversary. With a little help from my friends, I was able to plan a fun surprise for him!
Disclaimer: As of September 2023, I am a promotional partner of The Nauvoo Grand Bed & Breakfast This means I promote their business for compensation such as discounts and deals. Learn more.
I actually started planning this surprise months ago. My friend Laurie Berlin, the manager of the Nauvoo Grand Bed & Breakfast, invited me on a tour of the Nauvoo Grand a few months ago. I had never been inside the building before and I was blown away. That's when I knew I just had to write about the Nauvoo Grand and tell all of you about it!
So, Laurie and I hatched a plan. I would come and stay at the B&B sometime in the fall. I decided the perfect occasion would be my upcoming wedding anniversary.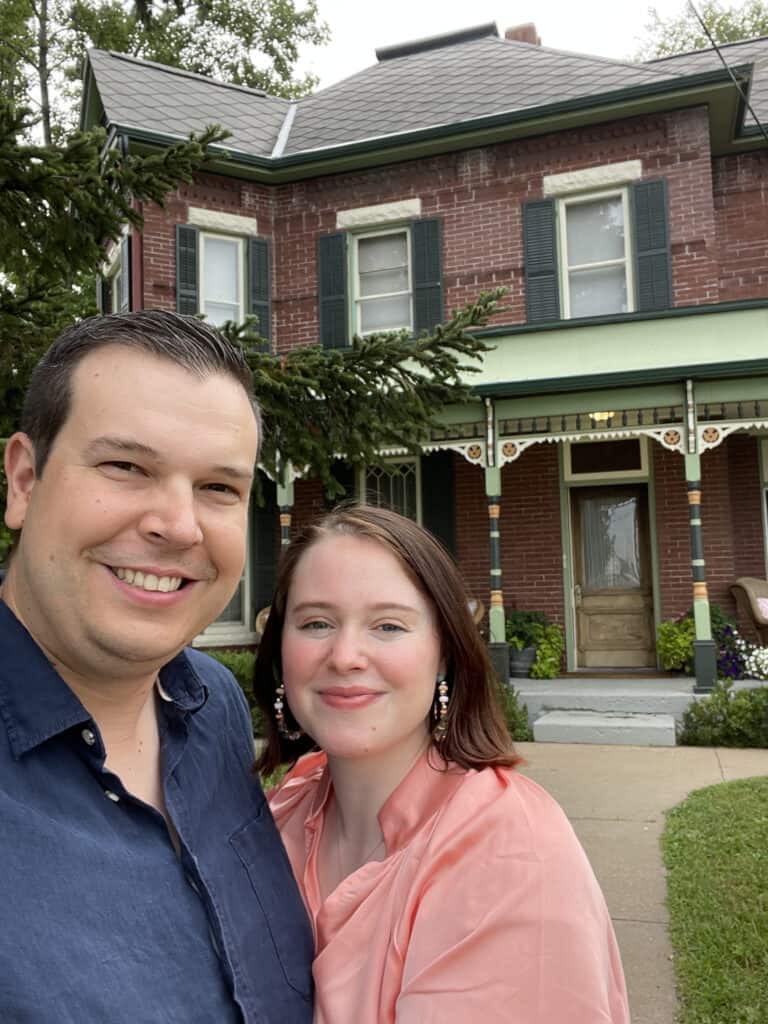 The Nauvoo Grand is a luxurious spot for a weekend getaway!
A Surprise for my Husband
On our anniversary weekend, I left for work that afternoon just like any other day. What my husband didn't know was that I had already packed our overnight bag and snuck it in the car. I had also packed myself an outfit for our surprise date night.
I headed over to the Nauvoo Grand and checked into our room. We stayed in the room called Emma's Aviary. No surprise that I picked the room named Emma. The room was beautiful! I took the opportunity to get ready for our date in our room. Once I was "all dolled-up" I went home early.
I walked in the door with my dress and my makeup on and found my husband utterly bewildered and confused at my appearance. I told him to get ready because our babysitter would be there in 10 minutes!
He was completely surprised, but excited, so once he was ready and the kids were all settled with their babysitter, we went out to enjoy dinner together… but I still hadn't told him that there was a PART 2 to the surprise!
After delicious dinner and dessert at a local Italian restaurant, we headed back home to get our kids ready for bed. As soon as they were asleep, babysitter #2 arrived. I surprised my husband AGAIN and told him we were about to enjoy an overnight-stay at the Nauvoo Grand!
He was, of course, surprised and elated once again. We enjoyed a wonderful stay at the B&B. The room and amenities were beautiful, everything was organized and super clean, and we loved all of the stunning European antique decorations and furnishings.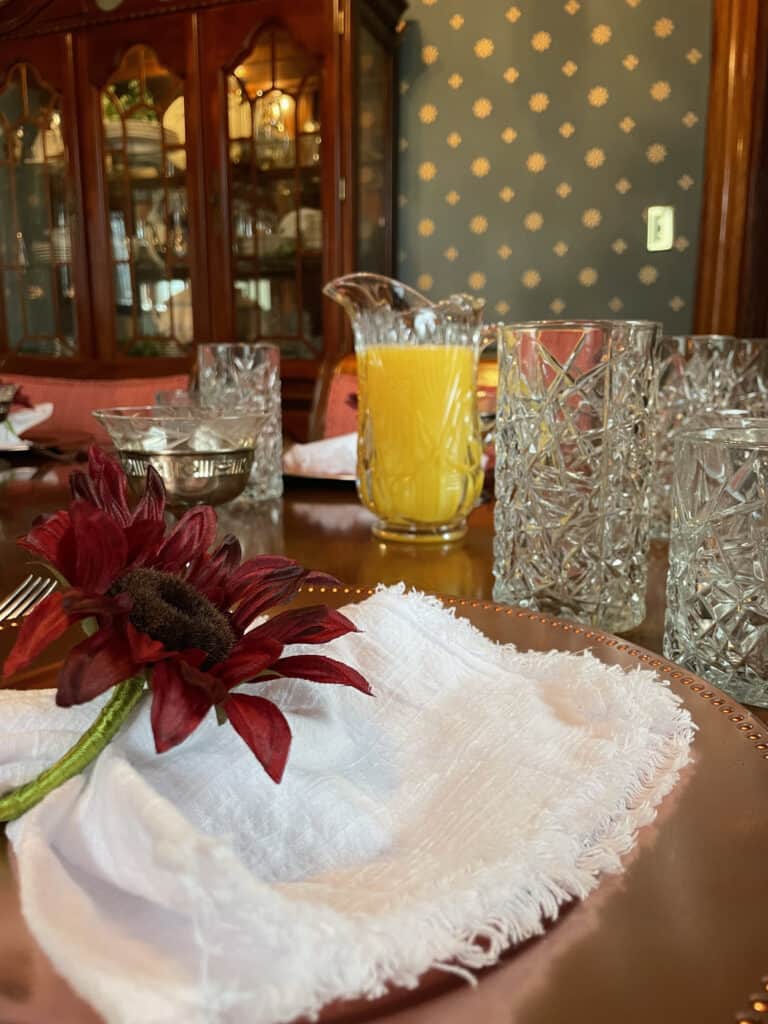 The Nauvoo Grand offers homemade, one-of-a-kind breakfasts to its guests every morning.
But really, our favorite part of our stay had to have been, of course, the immaculate breakfast we were served.
Manager Laurie Berlin cooks a fresh, homemade breakfast for the guests ever morning. The table is set with china and crystal. Tea is served, along with orange juice, and fresh fruit. The main course was stuffed crepes adorned with raspberry sauce. I actually never considered myself a fan of crepes, but after that breakfast at the Nauvoo Grand I am convinced otherwise! Laurie also prepared fresh-baked cinnamon-spice butternut squash as well as sausages on the side.
The breakfast was divine. We sat at the dining table with all the other guests and enjoyed good food and conversation.
A Special Surprise for Subscribers
It was an absolutely wonderful time staying at the Nauvoo Grand Bed & Breakfast. I highly recommend staying there on your next trip to Nauvoo. Make sure to book in advance because their availability is limited! And I haven't told you the best part yet … The Nauvoo Grand is offering an exclusive discount to subscribers of On this Day in Church History! All you need to do is subscribe (for free) to get the discount!
A big thank you to our babysitters and to Laurie Berlin for making this fun surprise a success! It was a great memory that we won't forget!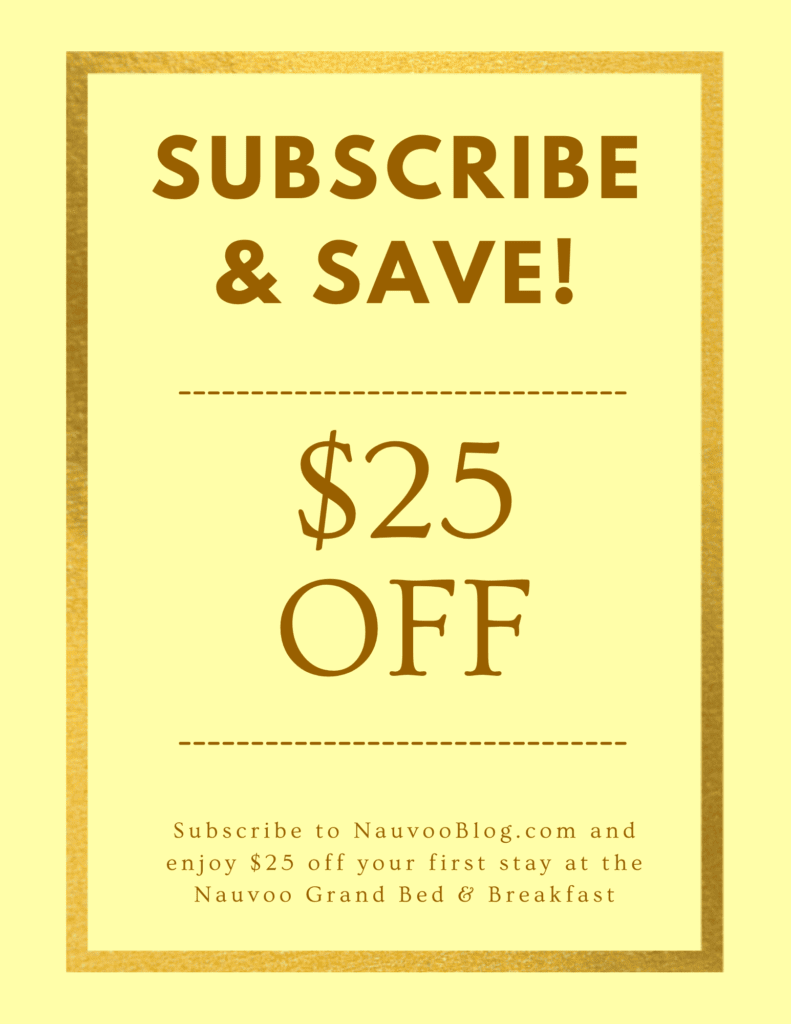 The Owners of the Nauvoo Grand Bed & Breakfast
In 2001, Cassie and Kent Barrett were living in Houston. He was a senior financial executive for a large group of companies that was acquired by an even larger global organization. As a consequence, his position was eliminated and they decided to leave corporate life.
As members of the Church of Jesus Christ of Latter-day Saints and lovers of historical properties, the couple felt drawn to Nauvoo, especially since the Nauvoo Temple (originally constructed in 1841-1846) was being rebuilt at that time.
In late 2001, they purchased a bed and breakfast in Keokuk, IA (the Grand Anne B&B, which tragically burned down in 2018) and the home in Nauvoo which became the Nauvoo Grand.
In early 2002, they relocated from Houston to Keokuk with five of their seven children still living at home. After six months, and the day before the open house began for the Nauvoo Temple, the Nauvoo Grand Bed and Breakfast opened its doors and it is now in its 21st year of operation.
After only a couple of years, their family had to leave the area for an employment opportunity. The Barretts lived for over eight years in Columbus, Ohio and have been living in Morgan, Utah since 2013.
The couple love to come to Nauvoo and enjoy all that is there, including the idyllic setting of the Nauvoo Grand and the surrounding orchards, vineyards, and farmland. They still own their home in Keokuk and have many dear friends from the area.
The dining room at the Nauvoo Grand.
The History behind the Nauvoo Grand Bed & Breakfast
The Nauvoo Grand was built in 1905 by Cecil J. Baxter.
The Baxters came to Nauvoo in 1855. They were part of the French Icarian movement. The Baxters started a winery, which is still in operation today and known as the oldest winery in Illinois.
The Baxters built the Nauvoo Grand over the remnants of an old LDS pioneer home. Some salvaged temple stone from the original Nauvoo Temple can still be seen in the basement.
The Baxter family owned the home for 86 years. It was later purchased by the Barrett family and transformed into the luxurious Victorian-style B&B that it is today.
You can learn more about the Nauvoo Grand on their website. Don't forget to subscribe to my website before you call to make a reservation, so that you can apply your discount toward the price of your stay!
Sincerely yours,
Justina #NauvooBlogger
Families with Young Children
Because this hotel is filled with fragile antiques, I would not recommend the Nauvoo Grand as an appropriate place for families with young children to stay. The Nauvoo Grand has some rooms that would accommodate families, but if you're bringing your children I would recommend children 8 and older.